The 2023 Knoxville Pride Mass will take place at Church of the Good Samaritan, Knoxville, on Sunday, June 25, at 5:00 pm and will feature the Rev. Kevin L. Strickland, Bishop of the Southeastern Synod ELCA, and music by The Rev. John Tirro and community members. Our donation campaign this year benefits the Rainbow Initiative of Bridge Refugee Services. A reception and table fair will follow the service.
Reconciling Panel Discussion
A Reconciling Panel Discussion on the Rainbow Initiative and LGBTQ+ displaced persons will take place at 3:30 pm ahead of the service featuring panelists from Episcopal Migration Ministries, the State Department, Bridge Refugee Services, and others.
Featured Guest Preacher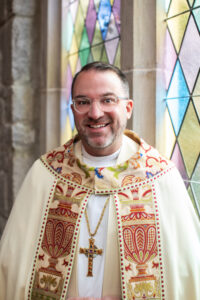 Our guest preacher for 2023 is Bishop Kevin Strickland, Bishop of the Southeastern Synod of the ELCA. The Rev. Kevin L. Strickland was elected Bishop of the Southeastern Synod on June 2, 2019.  Prior to the election, he served in the ELCA Churchwide office since August of 2014 as the Assistant to the Presiding Bishop, Executive for Worship of the ELCA.
Born and raised in Lexington, SC, Bishop Strickland is an honors graduate of Newberry College (Newberry, SC) with a Bachelor of Arts in Religion and Philosophy and a minor in History.  He also obtained a Master of Divinity from Lutheran Theological Southern Seminary (Columbia, SC).  In December of 2019, Newberry College awarded him a Doctorate of Divinity.  In August of 2021, he began work on a Doctorate of Ministry degree (class of 2024) in Church Leadership and Community Witness from Candler School of Theology at Emory University.  Bp. Strickland also holds a certificate in Executive religious fundraising.
Bishop Strickland served as pastor of Holy Trinity Lutheran (Nashville, TN) and St. Paul Lutheran (Maryville, TN) prior and has served at Incarnation Lutheran (Columbia, SC), St. Philip's Lutheran (Newberry, SC), Lutheran Church of Redeemer (Newberry, SC), and Mt. Tabor Lutheran (West Columbia, SC) in the area of youth and family ministry.
With a heart for justice and advocacy ministry, Bishop Strickland has served on various local and national non-profit boards. He currently serves on the boards of Georgia Interfaith Public Policy Council, Inspiritus, Middle East Ready Bench of the ELCA, Ecumenical and Interreligious Committee of the ELCA, Immigration Ready Bench of the ELCA, 1517 Media, Newberry College, NovusWay, Region Nine Council, James R. Crumley Archives, Day 1 Advisory Council, and many others.
Bishop Strickland has been published in several worship and preaching journals and books. In April of 2021, he was inducted into Morehouse College Martin Luther King, Jr. College of Ministers.  He and his spouse, Robby, are excited about what God has in store for the Southeastern Synod of the ELCA and look forward to walking this journey together.